---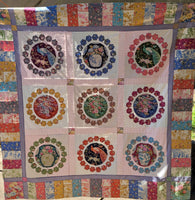 The Walton Garden Quilt reminds us of Walton Hall and Gardens in the UK. It has a beautiful Elizabethian home surround by walled gardens and Peacocks roaming around.
Tilda Chic Escape is a perfect range to make this beautiful quilt.
This is a ten part BOM and comes with card templates.
 This quilt measures 62in square. 
Designed by Dawn Hay
THIS IS A FULL QUILT PATTERN SET.