---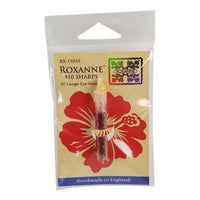 ROXANNE #10 SHARPS
Roxanne needles are beautiful to use in all aspects of hand sewing. They are handmade in England to strict and precise specifications. Each individual needle has been painstakingly shaped to a fine taper then highly polished and carefully nickle plated to give you complete control over every stitch. Sharps needles are smaller in length which gives the sewer more control over each stitch. These needles also boast the largest eye of the hand sewing needles which is great for those who hate trying to thread needles with pesky small eyes.
It can be tricky to discern what needle size you need to complete your task, but always remember the larger the needle size, the thinner the actual needle is. Take into consideration the weight of the material and thread you are using when choosing a hand sewing needle.
These Roxanne Sharps needles come in a handy clear tube embellished with a seashell and contain 50 needles per pack. That is enough to keep you sewing for a long time!